A Story of Justice and Redemption
A powerful true story about the Equal Justice Initiative, the people we represent, and the importance of confronting injustice, Just Mercy is a bestselling book by Bryan Stevenson that has been adapted into a feature film.
About EJI &
Bryan Stevenson
Equal Justice Initiative
EJI is committed to ending mass incarceration and excessive punishment in the United States, challenging racial and economic injustice, and protecting basic human rights for the most vulnerable people in American society. Founded in 1989 by Bryan Stevenson, a widely acclaimed public interest lawyer and bestselling author of Just Mercy, EJI is a private, 501(c)(3) nonprofit organization located in Montgomery, Alabama.
LEARN MORE ABOUT EJI
Bryan Stevenson
Bryan Stevenson is the founder and executive director of the Equal Justice Initiative. A widely acclaimed public interest lawyer who has dedicated his career to helping the poor, the incarcerated, and the condemned, he has won numerous awards, including the prestigious MacArthur Foundation "Genius" Prize and the ACLU's National Medal of Liberty.
LEARN MORE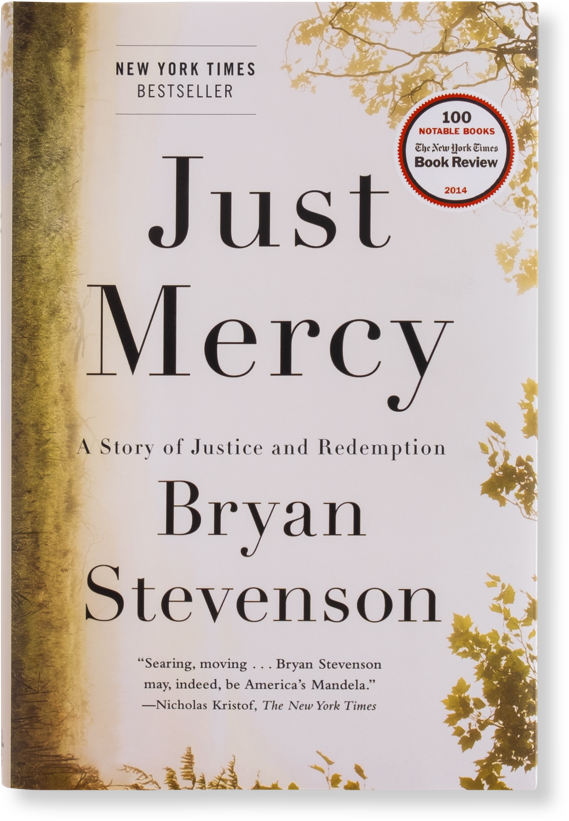 JUST MERCY — #1 New York Times Bestseller
The Book
An unforgettable true story about the potential for mercy to redeem us, and a clarion call to end mass incarceration in America — from one of the most inspiring lawyers of our time.
Bryan Stevenson was a young lawyer when he founded the Equal Justice Initiative, a nonprofit law office in Montgomery, Alabama, dedicated to defending the poor, the incarcerated, and the wrongly condemned.
Download discussion guide
Selected as a
New York Times Best Seller
Winner of the
Dayton Literary Peace Prize
Winner of a
NAACP Image Award for Nonfiction
Finalist for the
Kirkus Reviews Prize
Winner of a
Carnegie Medal for Excellence in Nonfiction
Selected as a
An American Library Association Notable Book
JUST MERCY
The Movie
Just Mercy takes us inside America's broken criminal justice system and compels us to confront inequality and injustice.
Based on the bestselling book, the Just Mercy movie presents the unforgettable story of Bryan Stevenson (Michael B. Jordan) and the case of Walter McMillian (Academy Award winner Jamie Foxx), who was convicted and sentenced to death for a crime he did not commit.
Download discussion guide
Winner of
ABA Silver Gavel Award
Winner of the National Board of Review's
Freedom of Expression Award
Earned audience score of
99% on Rotten Tomatoes
Michael B. Jordan Winner of
BET Award for Best Actor
Winner of
Christopher Award
Winner of
Four NAACP Image Awards
Winner of American Black Film Festival
Movie of the Year
Jamie Foxx Winner of American Black Film Festival
Excellence in the Arts Award
Bryan Stevenson is the founder and executive director of the Equal Justice Initiative. He had barely opened the nonprofit law office in Montgomery, Alabama, when he agreed to represent Walter McMillian, a Black man wrongly convicted of killing a white woman in the town that inspired To Kill a Mockingbird.
Walter McMillian insisted he had been framed. He told Bryan, "I know it may not matter to you, but it's important to me that you know that I'm innocent and didn't do what they said I did, not no kinda way." Bryan took on the case, determined to show that prosecution witnesses had lied on the stand.
Eva Ansley grew up in Alabama, disgusted by the state's unjust and abusive treatment of the poor and disfavored. Her commitment to finding legal help for people on Alabama's death row led her to join Bryan Stevenson in opening EJI, where she took on every challenge from accounting to recruiting lawyers.
Herbert Richardson was executed in 1989, despite the State of Alabama's failure to provide him with timely and effective legal assistance.
Ralph Myers served 30 years in prison and was released in 2017. He currently lives in Alabama.
Brenda Lewis was an investigator on Mr. McMillian's case. She continues to assist indigent people accused of crimes as an investigator at the Federal Defender in Mobile, Alabama.
Anthony Ray Hinton spent 30 years on Alabama's death row for a crime he did not commit. Even after EJI presented undisputed ballistics evidence that destroyed the State's case against him, Alabama prosecutors refused to re-open the case. It took 12 more years of litigation and a United States Supreme Court ruling to secure his freedom.
Minnie McMillian supported her husband Walter during his six years on death row and actively fought for his release.
Clients
Just Mercy tells the story of EJI's clients, from Walter McMillian and Anthony Ray Hinton — who were exonerated from Alabama's death row — to Joe Sullivan and Ian Manuel — who won release after being sentenced to die in prison for nonhomicide crimes in Florida when they were just 13 years old. We invite you to learn more about the clients featured in the book below.
Sign up to stay connected and receive updates about EJI's work.
By submitting this form, you are granting: Equal Justice Initiative, 122 Commerce Street, Montgomery, Alabama, 36104, United States, http://www.eji.org permission to email you. You may unsubscribe via the link found at the bottom of every email. (See our Email Privacy Policy for details.) Emails are serviced by Mailchimp.
FAQ
If you have additional questions about Just Mercy or the work of EJI, please visit eji.org.
Is Just Mercy a true story?
Yes. The movie is based on an actual case that is detailed in Bryan Stevenson's book, Just Mercy, published in 2014. Bryan took on Walter McMillian's case in 1988 to challenge his wrongful conviction and death sentence. Over the next six years, Bryan filed multiple legal challenges and conducted several hearings, but the trial court refused to grant Mr. McMillian a new trial despite overwhelming evidence of innocence, including the recantation of the State's main witness, Ralph Myers. Bryan appealed the ruling and the Alabama Court of Criminal Appeals ordered a new trial because the State withheld evidence of Mr. McMillian's innocence. Bryan filed a motion to dismiss all charges; the trial court granted it after the district attorney acknowledged Mr. McMillian's innocence. While the movie condenses the six years of litigation, it mostly tracks the actual account presented in the book. Mr. McMillian's claim of innocence attracted national attention as 60 Minutes broadcast a story about the case. The movie accurately introduces other people represented by Bryan Stevenson, including Herbert Richardson, a Vietnam War veteran who was executed in 1989, and Anthony Ray Hinton, who spent nearly 30 years on death row for a crime he did not commit.
What made the Walter McMillian case unique?
Sadly, while the McMillian case had some unique features, there are actually lots of people who are innocent who have been sentenced to death in the United States. Because Mr. McMillian was accused of a crime that took place in Monroeville, Alabama, the community where Harper Lee grew up and wrote the beloved novel To Kill a Mockingbird, there were interesting dynamics at play in the case. While the Monroeville community loves the Mockingbird story and took great pride in its association with the fictional characters of the book, there was tremendous resistance to recognizing Mr. McMillian's innocence despite overwhelming evidence. Walter McMillian and Ralph Myers were both placed on death row before going to trial, which is illegal and a rare form of coercion. After Mr. Myers agreed to give false testimony against Mr. McMillian, he was removed from death row. Mr. McMillian spent 15 months on death row awaiting his trial in an effort to pressure him into pleading guilty. The case was unique as well because the trial judge, Robert E. Lee Key Jr., moved the trial from Monroe County, which is over 40% Black, to Baldwin County, which had a much smaller Black population, making a nearly all-white jury more likely. Despite that change of venue, the jury that convicted Mr. McMillian of capital murder sentenced him to life imprisonment without parole. In Alabama, the trial judge has the authority to override a jury's verdict of life and impose the death penalty, which is what happened. Judge override of life verdicts has been a unique characteristic of the death penalty in Alabama. The Walter McMillian case is also significant because it was one of the very early cases where a death row prisoner was proved innocent after being sentenced to death despite death penalty reforms in the 1970s and early 1980s.
What happened to Walter McMillian after his release?
Walter McMillian stayed in Alabama after his release. Bryan and the staff at EJI filed civil rights lawsuits against state and local officials for putting him on death row before his trial and for violating his rights. The case settled out of court after several years of litigation. Because police, prosecutors, and judges are immune from judgments that require them to make payments to people victimized by abuse of authority and wrongdoing, the settlement compensation was much less than had been hoped. An effort to make the sheriff accountable went all the way to the United States Supreme Court, but the Court ruled that the sheriff could be protected from liability based on immunity laws. With the money that was obtained for Mr. McMillian, he was able to work in Monroe County selling scrap metal. About 10 years after his release, he began showing symptoms of early onset dementia, which some doctors believed was caused by the trauma of his ordeal on death row. Mr. McMillian died in 2013.  He and Bryan remained close friends, occasionally traveling together to talk to audiences about the death penalty. They appeared at a United States Senate hearing shortly after Mr. McMillian's release to testify about the need for ending the death penalty and for reform of the criminal justice system. Read Mr. McMillian's statement.
How often are innocent people sentenced to death?
Since 1973, more than 165 people have been released from death row after evidence of their innocence was uncovered. A shocking rate of error has emerged: for every nine people executed in this country, one innocent person has been exonerated. Wrongful convictions have been found to result from erroneous eyewitness identifications, false and coerced confessions, misconduct by police and prosecutors, inadequate legal defense, false or misleading forensic evidence, and perjury by witnesses who are promised lenient treatment or other incentives in exchange for their testimony. Nine people have been exonerated in Alabama. Walter McMillian, Randall Padgett, Gary Drinkard, Louis Griffin, Wesley Quick, James Cochran, Charles Bufford, Anthony Ray Hinton, and Daniel Moore were found not guilty of the crimes that originally put them on Alabama's death row.
How does the Just Mercy book differ from the movie?
The book provides much more historical context for the issues raised in the movie and provides detail about our nation's evolving embrace of mass incarceration and excessive punishment. The book discusses many more clients and cases than the McMillian case depicted in the movie. The book focuses a lot on Bryan and EJI's work challenging the adult prosecution of children, some of whom were condemned to die in prison when they were 13 or 14 years of age. Bryan explores the evolution of mass incarceration and the impact on the poor, people of color, and people who are disfavored. The impact of over-incarceration on the mentally disabled and the growing numbers of people sentenced harshly because of mental illness is detailed. There are chapters that explore the increasing incarceration rates for women and how many women are criminalized for being poor. Bryan's own journey dealing with racial bias, police violence, and the enormous obstacles that must be overcome to do justice are more fully developed in the book, which recently was adapted for young adults.
How can I learn more about the issues raised in the movie?
In addition to reading the book, Just Mercy, you should visit EJI in Montgomery, Alabama. EJI has recently opened a major cultural complex to educate the public about our nation's history of racial injustice and the implications of that history for issues like mass incarceration and the death penalty. The Legacy Museum:  From Enslavement to Mass Incarceration opened in April 2018 along with the National Memorial for Peace and Justice, which is dedicated to thousands of African American victims of lynching. EJI's Peace and Justice Memorial Center provides daily presentations about EJI's work and the sites. Over 600,000 people have visited these sites. Visit eji.org to take a closer look at the work of EJI.
Do you have resources for discussing Just Mercy with students or community groups?
Yes, we have a Discussion Guide that provides background information and selected topics for discussing the Just Mercy movie with students, community groups, friends, and family. You can also download this discussion guide for students and groups who are reading the Just Mercy book.